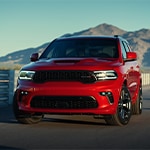 At Action Auto, we carry many great options. Those of you looking into getting a three-row SUV will be very pleased with the Dodge Durango. This model handles itself well and is comfortable and reliable. It'd be a great vehicle to drive around Sidney.
Space is definitely something that the Durango has a lot of. It has a maximum cargo volume of 85.1 cubic feet when all the rear seats have been lowered. When those seats are all in place, there's room for up to seven people. There are many ways to reconfigure the cabin if you have both passengers and cargo to transport. You'll also find the fold-and-tumble second row to be quite convenient, since it makes it easy for people to access that back row.
The Durango's cabin can feel pretty refined, especially if you opt for a model with Nappa leather seats. The front seats can be heated and ventilated, too.